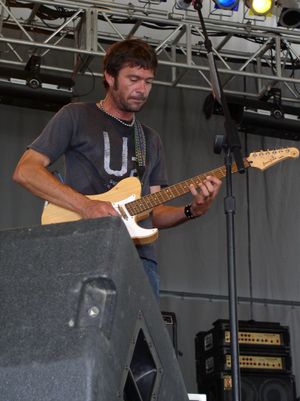 I have always been consumed by music. Some of my earliest memories are of being emotionally overwhelmed by the music coming through the speakers of my parent's stereo. Fortunately, my parents always encouraged me to not just listen to music, but to become a participant. The music of my childhood was a mix of musicals, classical, big band, marches, and hymns. I was probably in 1
st
grade when my older sister and I found my mother's copy of "Surfin' USA" by the Beach Boys. We put it on the stereo and immediately began dancing ecstatically around the living room. Music now had a whole new meaning. 
As I grew older, I continued to love all types of music, but found myself gravitating towards British Isle bands such as Big Country, U2, The Alarm, and The Levellers. I'm sure that these bands, along with my exposure to marches and old hymns, have highly influenced my writing style. Rob, Jeremy, and myself started a band called Velvet Silence. The review of one of our first shows compared us to Big Country, Waterboys, and Fairport Convention. At the time, I didn't even know who Fairport Convention was! We soon found ourselves opening for Tempest. While playing on public radio to promote the show, we were asked what traditional music we listened to for inspiration. Rob and I looked at each other dumbfounded and said, "Big Country". We had no idea!
Velvet Silence was short lived, and I soon found myself playing in a techno/industrial/synthpop band as well as doing solo acoustic shows. Playing these solo shows is how I fell into the world of Celtic music. Many of the songs I'd written had enough Celtic feel to them that venues began to book me as a "Celtic" act. I still had little idea of what Celtic music really was, but slowly immersed myself with the greats and began to learn some of the traditional songs and mixing them with the songs I'd written. I never aspired to be a solo "singer/songwriter". I am a rock and roller at heart and wanted to play in a full band, so adding drums, bass, and eventually fiddle were a given, and along came Homeland!